Call Us: (202) 838-8105
Contact : contact@rnha.org
As NAFTA Dies, USMCA Rises
As NAFTA Dies, USMCA Rises
By Natalia Godoy
January 8, 2019
On September 30th, 2018, after a year of negotiations to "modernize" NAFTA, the lead negotiators of the new U.S.-Mexico-Canadian (USMCA) trade agreement released a joint statement proclaiming agreement had been reached.  President Trump kept another election campaign promise to his voters by persuading both Canada and Mexico to renegotiate the terms of the disastrous free trade agreement (NAFTA) and replacing it with the U.S, -Mexico-Canada Agreement (USMCA). The USMCA agreement is designed to enhance and overhaul US manufacturing so that it can regain its competency on a scale like it used to.
The new agreement increases the mandatory amount of wages to be earned evenly across the three nations. This could potentially incentivize some auto manufacturing plants in China to move to Mexico. In the past, Canada has failed to play its part of trade agreements by not agreeing with President Trump on the vast difference of wages that US and Canadian workers make in comparison to their Mexican counterparts. This means that manufacturers of these nations would make at least $16 (the US) compared to the $3.41 that Mexican autoworkers make at the present. In addition to this, Mexico has agreed to pass laws giving workers the right to real Union representation.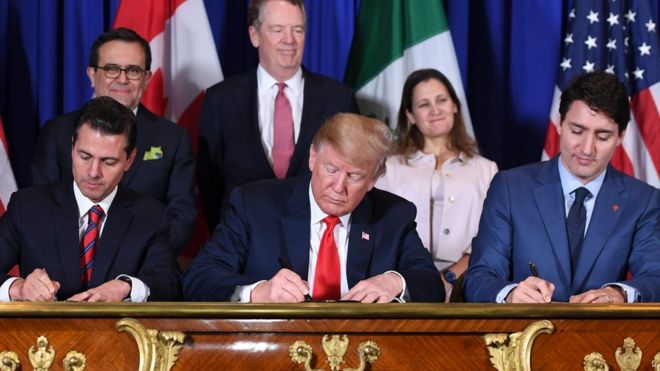 NAFTA was the first treaty that attempted to promote and protect workplace health and safety through "labor side agreement", much like OSHA in the US, but NAFTA failed miserably due to the weaknesses of the side's agreement text. The increase in Mexico improving its wages could also be a win for the US in terms of migration. It would limit the number of people coming into the Country, while at the same time fulfill Mexico's new president dream, Andres Manuel Lopez Obrador, of Mexicans not having to leave their country for low wages and having to migrate elsewhere.
Automakers can qualify for zero tariffs if 75 percent of their vehicles' components are manufactured in the U.S., Canada or Mexico, up from 62.5percent under NAFTA. Canada will also ease its restrictions on its dairy and allow American farmers to export about $560 million worth of dairy products. For the first time, law enforcement officials can stop suspected counterfeit or pirated goods in any of the three countries. Harsher punishments will be added for pirated movies online and civil, criminal penalties for satellite, and cable signal theft. The pact includes a whole bunch of new rules for "strong and effective protection and enforcement of intellectual property rights".
As good as this agreement seems to be for all nations, it has yet to be ratified by the legislatures of each nation. The US Congress isn't expected to vote on it until 2019. President Trump appears to be content with this agreement as he was always displeased and voiced his concerns during the election process on how the US had to recover its place in the world economic stage and not let China run or dictate things.
This in effect will make the US more competitive and as a result of his economic choices, our economy is booming and thriving like it hasn't for decades. As President Trump told the United Nations that our economy has added $10 Trillion in wealth, unemployment is at an all-time low for all ethnicities, added 4 Million jobs, to include half a million manufacturing jobs. The promise of the USMCA is that it seeks to reduce trade barriers, grant greater access to markets, solidify good international relations, and improve the lives of people in all three nations with peace and prosperity. The USMCA couldn't have come at a better time and President Trump is the catalyst for this to have come to fruition.
If you enjoyed the article and would like to see more, become a member or donate to the RNHA today! The Republican National Hispanic Assembly is a not for profit organization. We are an independent media institution funded by small donors. We depend on you to continue to produce quality content. 
About the Author
Natalia Godoy is a Chilean American, full time accomplished political writer. She has dedicated her life to reaching out to the Latino community.  Has contributed with freelance interpretation services to local churches and is a former radio show host in Seattle, WA. She has been involved in helping Latina victims of domestic violence abuse. She has appeared as a guest in various conservative media platforms. She's currently working on publishing her first book and building her "Red-Pill site" to further spread the conservative cause.